What is mange?
Essentially mange is what you call it when a dog has scabies. But the mites on dogs are a separate, different species than the scabies mites that can live on people. If dog mites wander onto you they can cause bumps, itching and drive you crazy. So you can treat your dog and yourself, too! Here is a medical report of a woman with dog mites (called sarcoptic mange) from a puppy she got.
Dog mites cannot reproduce on humans so they will die in a few days. Likewise if some of your human mites wander onto your dog they will die in a few days. But your dog can continually supply new mites! So if some of your dog's mites are on you, if you cure your dog you will be magically cured in a few days, too. But meanwhile they can drive both of you crazy.
There are many treatments for mange (dog scabies) available over-the-counter. I will describe three which should do. They are a permethrin dip (or spray), sulfur lotion, and ivermectin (oral). You can do one or all of these treatments.
Warnings
Important! Ivermectin can kill certain breeds of dogs, so PLEASE click here and read the list of vulnerable dog breeds!
DO NOT use these treatments on cats! The dip contains permethrin and can kill cats when wet. Once dry it will not harm them, so you can use it on your dog and once the dog is dry, it will not hurt your cat. Long ago I witnessed someone use a dog flea shampoo on kittens and they all died horribly. So don't use anything with permethrin (such as the dip) on cats, kittens or puppies under 12 weeks old. I don't know anything about using a sulfur lotion on cats, so I wouldn't do that unless a vet says to.
Description of two kinds of mange
"Sarcoptic mange tends to cause intense itching. It can result in restlessness and frantic scratching, symptoms that generally appear one week after exposure. It also can result in hair loss, reddened skin, body sores and scabs. The most commonly affected areas are a dog's ears, elbows, face and legs, but it can rapidly spread to the entire body. When passed to humans, sarcoptic mange causes a rash of red bumps, similar to mosquito bites."
There is another form of mange called "demodectic mange" which has a different treatment. This page is about treating sarcoptic mange.
"Demodectic mange tends to cause hair loss, bald spots, scabbing and sores. Secondary bacterial infections can make demodectic mange an itchy and uncomfortable disease."
"Humans cannot get demodectic mange from dogs."
quotes from WebMD for Pets
Why I am recommending these products
First off, I have used the Nu-Stock sulfur ointment (diluted to 10%) on myself so I know is good stuff and it worked for me. I have read the ingredient lists for the Happy Jack products (lotion and dip/spray ingredient info) and they seem good to me, too. Also, they are reasonably priced.
Pure permethrin or permethrin plus something?
Happy Jack Kennel Dip II contains 17% permethrin AND 4.25% piperonyl butoxide (PBO). PBO seems to be safe for dogs but not for humans. Martin's 10% Permethrin contains only permethrin and inert ingredients (no PBO or petroleum distillates).
‍Using ‍Happy ‍Jack ‍skin ‍lotion/medicine
‍Happy ‍Jack ‍Sarcoptic ‍Mange ‍medicine ‍is ‍pre-mixed ‍28% ‍sulfur ‍lotion/medicine ‍which ‍is ‍correct ‍for ‍dogs ‍(but ‍too ‍strong ‍for ‍human ‍skin). ‍The ‍other ‍72% ‍is ‍linseed ‍oil, ‍turpentine, ‍pine ‍tar ‍oil, ‍cod ‍liver ‍oil, ‍lanolin, ‍and ‍tar ‍acid ‍oil.
‍Sulfur ‍will ‍ease ‍itching, ‍kill ‍bacteria ‍and ‍is ‍easy ‍to ‍apply.
‍Directions: ‍Shake ‍well. ‍Apply ‍once ‍a ‍day ‍for ‍several ‍days ‍(leave ‍it ‍on). ‍Wear ‍rubber ‍gloves ‍and ‍work ‍well ‍into ‍the ‍skin ‍with ‍a ‍slow, ‍firm ‍finger ‍massage. ‍On ‍areas ‍that ‍respond ‍slowly, ‍use ‍twice ‍a ‍day ‍until ‍healed. ‍After ‍applying, ‍keep ‍your ‍pooch ‍outside ‍or ‍in ‍the ‍garage ‍for ‍at ‍least ‍20 ‍to ‍30 ‍minutes ‍to ‍let ‍it ‍dry. ‍More ‍info ‍at ‍WebMD ‍for ‍Pets.
‍Mixing ‍up ‍your ‍own ‍sulfur ‍lotion ‍with ‍Nu-Stock
‍Happy ‍Jack ‍Sarcoptic ‍Mange ‍medicine ‍is ‍28% ‍sulfur. ‍Nu-Stock ‍ointment ‍is ‍73% ‍sulfur, ‍so ‍you ‍need ‍to ‍dilute ‍1 ‍part ‍Nu-Stock ‍to ‍2 ‍parts ‍hair ‍conditioner ‍for ‍dogs. ‍to ‍make ‍a ‍24% ‍solution. ‍
‍Note: ‍humans ‍use ‍a ‍10% ‍sulfur ‍lotion, ‍not ‍24 ‍or ‍28%! ‍— ‍more ‍info ‍on ‍the ‍recipe ‍for ‍sulfur ‍lotion ‍for ‍humans ‍here.
Do I have dog mites or does my dog have human mites?
If both you and your dog are itching and have bumps and such, many references will say your dog has mange and dog mites have wandered onto you. But this medical paper describes a woman and her puppy who both had scabies mites. Wikipedia's page on scarcoptes scabiei (the mite that causes human scabies) says, "Humans are not the only mammals that can become infected. Other mammals, such as wild and domesticated dogs and cats (in which it is one cause of mange) as well as ungulates, wild boars, bovids, wombats, koalas, and great apes are affected."
The truth is you don't need to know the answer. It is almost impossible to find a mite on a human…because the mites are too small to be seen by the human eye.
You have two choices:
1. You can treat just you or just your dog and see if that does the trick.
2. Or you can treat both your dog and you at the same time. Use the products below on your dog and make up 10% sulfur lotion to use on yourself (directions for treating yourself with sulfur lotion here). Some people use 5% permethrin cream instead of the 10% sulfur lotion. You can also mix up a 1/2% permethrin solution to spray around on your dogs bed, or wherever he/she hangs out.
‍Using ‍a ‍dip ‍or ‍spray
‍Happy ‍Jack ‍Kennel ‍Dip ‍II ‍is ‍a ‍simple ‍to ‍use ‍permethrin-based ‍treatment. ‍You ‍can ‍either ‍make ‍a ‍dip ‍or ‍you ‍can ‍apply ‍it ‍with ‍a ‍sponge ‍or ‍sprayer. ‍"Mix ‍1/2 ‍oz. ‍per ‍gallon ‍of ‍water ‍as ‍a ‍dip ‍or ‍sponge ‍on…" ‍(quote ‍from ‍the ‍Happy ‍Jack ‍web ‍page)
‍Remember ‍it ‍is ‍toxic ‍to ‍cats ‍when ‍wet, ‍so ‍keep ‍cats ‍away ‍until ‍it ‍is ‍dry. Once ‍dry ‍it ‍is ‍safe ‍for ‍cats ‍to ‍touch ‍the ‍treated ‍surfaces.
‍You ‍use ‍a ‍sponge ‍or ‍a ‍cup ‍or ‍a ‍sprayer ‍to ‍apply ‍the ‍solution. ‍Obviously ‍outdoors ‍is ‍a ‍better ‍place ‍to ‍do ‍this! ‍Get ‍him ‍soaked ‍all ‍over ‍EXCEPT ‍NOT ‍his ‍eyes ‍or ‍mouth. ‍In ‍other ‍words, ‍don't ‍put ‍it ‍on ‍his ‍face. ‍
‍Then ‍you ‍simply ‍let ‍your ‍dog ‍drip ‍dry. ‍Don't ‍towel ‍him ‍off.
‍Repeat ‍this ‍treatment ‍as ‍described ‍on ‍the ‍bottle. ‍It ‍can ‍take ‍a ‍month ‍of ‍repeated ‍treatments ‍to ‍cure ‍mange.
32 ounce bottle of 10% permethrin
(above) makes almost 5 gallons of 1/2% dip
Does NOT contain petroleum distillates (but double-check the label by zooming in at Amazon and when you get it)
‍I ‍made ‍my ‍own ‍5% ‍permethrin ‍lotion
‍When ‍I ‍had ‍scabies ‍I ‍made ‍my ‍own ‍5% ‍lotion ‍because ‍the ‍prescription ‍cream ‍was ‍ridiculously ‍expensive ‍and ‍because ‍doctors ‍either ‍wouldn't ‍believe ‍I ‍had ‍scabies ‍or ‍wouldn't ‍prescribe ‍enough ‍to ‍cure ‍me. ‍Prescription ‍cream ‍was ‍$80 ‍for ‍2 ‍ounces ‍and ‍my ‍homemade ‍lotion ‍cost ‍under ‍$2 ‍make ‍that ‍much. ‍In ‍many ‍countries ‍5% ‍permethrin ‍cream ‍is ‍$5 ‍and ‍is ‍over-counter. ‍Why ‍it ‍is ‍so ‍expensive ‍here? ‍Partly ‍because ‍there ‍are ‍different ‍grades ‍of ‍permethrin ‍and ‍the ‍most ‍pure ‍is ‍in ‍the ‍prescription ‍cream, ‍but ‍I ‍suspect ‍mostly ‍there ‍is ‍a ‍lot ‍of ‍profit ‍to ‍be ‍made.
‍I ‍simply ‍mixed ‍half ‍Martin's ‍10% ‍Permethrin ‍with ‍half ‍skin ‍lotion ‍to ‍result ‍in ‍a ‍5% ‍permethrin ‍lotion. ‍I ‍tried ‍various ‍skin ‍lotions ‍and ‍wound ‍up ‍using ‍Gold ‍Bond ‍Ultimate ‍skin ‍lotion ‍because ‍it ‍is ‍very ‍thick ‍so ‍the ‍resulting ‍mixture ‍wasn't ‍so ‍runny. ‍You ‍can ‍find ‍Gold ‍Bond ‍Lotion ‍on-line ‍or ‍in ‍Walmart ‍or ‍Target ‍(it's ‍all ‍over!).
‍Example: ‍I ‍mixed ‍1/4 ‍cup ‍10% ‍permethrin ‍with ‍1/4 ‍cup ‍skin ‍lotion ‍to ‍make ‍1/2 ‍cup ‍of ‍5% ‍permethrin ‍lotion. ‍Yes, ‍it ‍was ‍that ‍simple.
‍I ‍did ‍find ‍any ‍permethrin ‍that ‍said ‍"Contains ‍petroleum ‍distillates" ‍was ‍very ‍irritating ‍to ‍my ‍skin. ‍So ‍I ‍made ‍sure ‍it ‍did ‍NOT ‍say ‍"Contains ‍petroleum ‍distillates" ‍on ‍the ‍label. ‍For ‍more ‍info ‍see ‍the ‍section ‍at ‍the ‍bottom ‍of ‍this ‍page ‍"Why ‍choose ‍10% ‍or ‍36.8% ‍permethrin?"
‍I ‍cannot ‍recommend ‍anyone ‍else ‍mixing ‍up ‍their ‍own ‍lotion ‍because ‍the ‍manufacturer ‍threatened ‍to ‍sue ‍me ‍when ‍I ‍made ‍a ‍video ‍showing ‍how ‍I ‍made ‍my ‍own. ‍My ‍homemade ‍5% ‍lotion ‍worked ‍fine ‍for ‍me, ‍but ‍making ‍your ‍own ‍lotion ‍is ‍an ‍off-label ‍use, ‍so ‍you ‍have ‍to ‍decide ‍for ‍yourself ‍what ‍to ‍do. ‍I'm ‍just ‍telling ‍you ‍my ‍experience. ‍I ‍am ‍not ‍a ‍doctor ‍and ‍I ‍am ‍not ‍telling ‍anyone ‍else ‍what ‍to ‍do ‍or ‍not ‍do.
‍Obviously ‍with ‍anything ‍new ‍I ‍always ‍tried ‍it ‍on ‍a ‍small ‍area ‍of ‍my ‍skin ‍and ‍then ‍waited ‍20-30 ‍minutes ‍to ‍see ‍if ‍I ‍had ‍any ‍bad ‍reactions. ‍I ‍usually ‍try ‍new ‍treatments ‍on ‍my ‍forearm ‍because ‍the ‍skin ‍isn't ‍so ‍sensitive ‍there. ‍When ‍I ‍used ‍the ‍10% ‍that ‍did ‍not ‍contain ‍petroleum ‍distillates ‍I ‍had ‍no ‍bad ‍reactions. ‍The ‍kind ‍that ‍said ‍"Contains ‍petroleum ‍distillates" ‍made ‍my ‍skin ‍very ‍irritated.
‍Mite-proof ‍your ‍environment
‍You ‍can ‍buy ‍pre-mixed ‍Sawyer's ‍Permethrin ‍Spray ‍and ‍use ‍it ‍to ‍treat ‍where ‍your ‍dog ‍hangs ‍out, ‍such ‍as ‍a ‍cushion ‍or ‍where ‍he ‍lays. ‍You ‍can ‍also ‍spray ‍your ‍clothes ‍or ‍car ‍seat ‍to ‍make ‍it ‍mite-proof. It ‍is ‍basically ‍one-half ‍percent ‍(1/2%) ‍permethrin ‍and ‍water. ‍The ‍other ‍ingredients ‍(if ‍there ‍are ‍any) ‍are ‍a ‍secret. ‍Sawyer's ‍works ‍great…lots ‍more ‍info ‍on ‍my ‍page ‍about ‍mite-proofing ‍clothes ‍here.
‍But ‍you ‍can ‍also ‍make ‍your ‍own ‍1/2% ‍permethrin ‍spray. ‍The ‍concentrate ‍you ‍buy ‍also ‍has ‍secret ‍ingredients ‍to ‍make ‍it ‍adhere ‍to ‍cloth ‍surfaces. ‍You ‍can ‍put ‍it ‍in ‍any ‍kind ‍of ‍sprayer ‍and ‍simply ‍wet ‍down ‍surfaces ‍and ‍let ‍it ‍dry. ‍It's ‍best ‍to ‍do ‍this ‍in ‍the ‍shade ‍as ‍sunlight ‍degrades ‍permethrin. ‍
‍A ‍treatment ‍by ‍either ‍Sawyer's ‍or ‍your ‍DIY ‍mix ‍should ‍last ‍6 ‍weeks, ‍even ‍if ‍you ‍run ‍things ‍through ‍the ‍washer. ‍I've ‍had ‍clothing ‍I ‍only ‍use ‍occasionally ‍stay ‍tick ‍and ‍mite ‍proofed ‍for ‍years.
‍You ‍can ‍use ‍Happy ‍Jack ‍Kennel ‍Dip ‍II ‍or ‍Martin's ‍10% ‍Permethrin ‍and ‍water ‍to ‍mix ‍up ‍a ‍1/2 ‍percent ‍permethrin ‍solution. ‍If ‍you ‍decide ‍to ‍use ‍the ‍36.8% ‍permethrin ‍just ‍be ‍sure ‍to ‍let ‍the ‍petroleum ‍distillates ‍evaporate ‍completely.…you ‍should ‍be ‍able ‍to ‍smell ‍when ‍the ‍mineral ‍spirits ‍odor ‍is ‍gone.
‍Recipes ‍for ‍1/2% ‍permethrin ‍spray
‍To ‍make ‍1 ‍gallon ‍(or ‍4 ‍liters) ‍of ‍approximately ‍.5% ‍solution ‍(1/2% ‍solution).
‍With ‍Happy ‍Jack ‍Kennel ‍Dip ‍II
‍Mix ‍4 ‍ounces of ‍Kennel ‍Dip ‍II ‍with ‍1 ‍gallon ‍of ‍water ‍= ‍132 ‍ounces ‍of ‍1/2% ‍permethrin ‍solution
‍COST ‍about ‍$11.50 ‍per ‍gallon
‍Using ‍10% ‍permethrin ‍concentrate ‍
‍1 ‍gallon ‍water ‍+ ‍7 ‍oz ‍10% ‍Permethrin ‍= ‍135 ‍oz ‍at ‍.5% ‍concentration
‍COST ‍$.75 ‍per ‍ounce ‍x ‍7 ‍= ‍$5.25 ‍per ‍gallon
‍Metric
‍4 ‍liters ‍water ‍+ ‍210 ‍ml ‍10% ‍permethrin ‍= ‍4.2 ‍liters ‍at ‍.5% ‍concentration
‍Using ‍36.8% ‍permethrin ‍concentrate ‍
‍(not ‍for ‍applying ‍directly ‍to ‍skin)
‍(Note: ‍it ‍may ‍say ‍"Permethrin ‍SFR" ‍on ‍the ‍bottle)
‍1 ‍gallon ‍water ‍+ ‍2 ‍ounces ‍36.8% ‍permethrin ‍= ‍
‍130 ‍ounces ‍of ‍.51% ‍concentration
‍COST ‍$.85 ‍per ‍ounce ‍x ‍2 ‍= ‍$1.70 ‍per ‍gallon
‍Metric
‍4 ‍liters ‍water ‍+ ‍60 ‍ml ‍36.8% ‍permethrin ‍= ‍4 ‍liters ‍of ‍.5% ‍permethrin
Why choose 10% or 36.8% permethrin?
Short explanation: use 10% permethrin for uses that touch skin and 36.8% for a spray to treat anything not alive (like furniture or the yard).
Look at the sample labels below. The kind with no petroleum distillates says "CAUTION" on the label in big letters. The kind that contains petroleum distillates says "WARNING" on the label in big type (and it says "Contains petroleum distillates" in small type).
You can even use the 36.8% to tickproof clothing, just not while you are wearing them. Dilute it to 1/2% and apply by soaking or spraying and then let your clothes drip-dry in the garage or outside (but in the shade because sunlight degrades permethrin) until they are completely dry before wearing them. That usually means overnight.
Obviously 36.8% permethrin is more economical, but it does contains petroleum products (something like mineral spirits) so you don't want to apply this stuff directly to your skin or your pet's skin. If you are spraying it around on pet bedding or furniture or the yard, then the solvents evaporate and everyone is happy. But solvents are very irritating to one's skin — it won't kill you but be aware and wash your hands and/or wear gloves and follow the directions on the bottle. Here is an MSDS for Permethrin SFR (notice it lists "hydrocarbon solvent 26%" and on the label it will says "Contains petroleum distillates"). It also lists "Triacetin" which is a food additive. The "Surfactant blend" is a proprietary secret.
Using 10% permethrin concentrate will cost 3 times as much per gallon of solution, but it contains no petroleum distillates. It is easier on skin so use this to make a solution for treating a pet's skin (such as for a dip). ~ (it's called the MSDS or the Manufacturer's Safety Data Sheet). Notice it does not list any kind of solvents or petroleum distillates for the 10% permethrin.
When you get the permethrin concentrate, look at the label…if it contains petroleum distillates it should say so.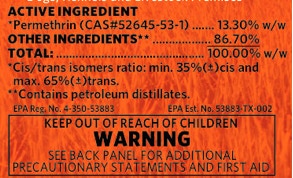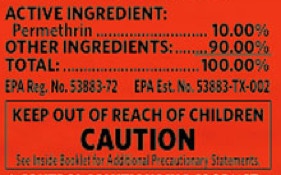 Sample permethrin labels
The upper one says "Contains petroleum distillates" and "Warning".
The lower one does not say that and also says "Caution". That means it does NOT contain petroleum products.
Read what "Notice", "Caution", "Warning", and "Danger" mean here.